Stellar (XLM) price movement takes a scary fall.
The price retreats from the intraday high.
Stellar was spotted marking a heavy fall on the price chart since the opening hour. The plunge was quite terrifying as the counters stroked $0.0510 at the moment. The coin is popular for its hasty movement on the price chart. Notably, the last two months were result-giving for Stellar. Even the top guns like Bitcoin, Ethereum, Ripple, etc were seen touching their 90-days high during the same period.
The ongoing month started with a regression. The bearish impact is still in the market and looks like the coins would be suffering for some more time. However, the anticipation of improvement is also tight and that might begin after the current week. For the intraday traders of Stellar, the day doesn't seem to have much. The day could end with a negative digit and thus the traders are recommended to hold for a while.
XLM/USD Price Chart: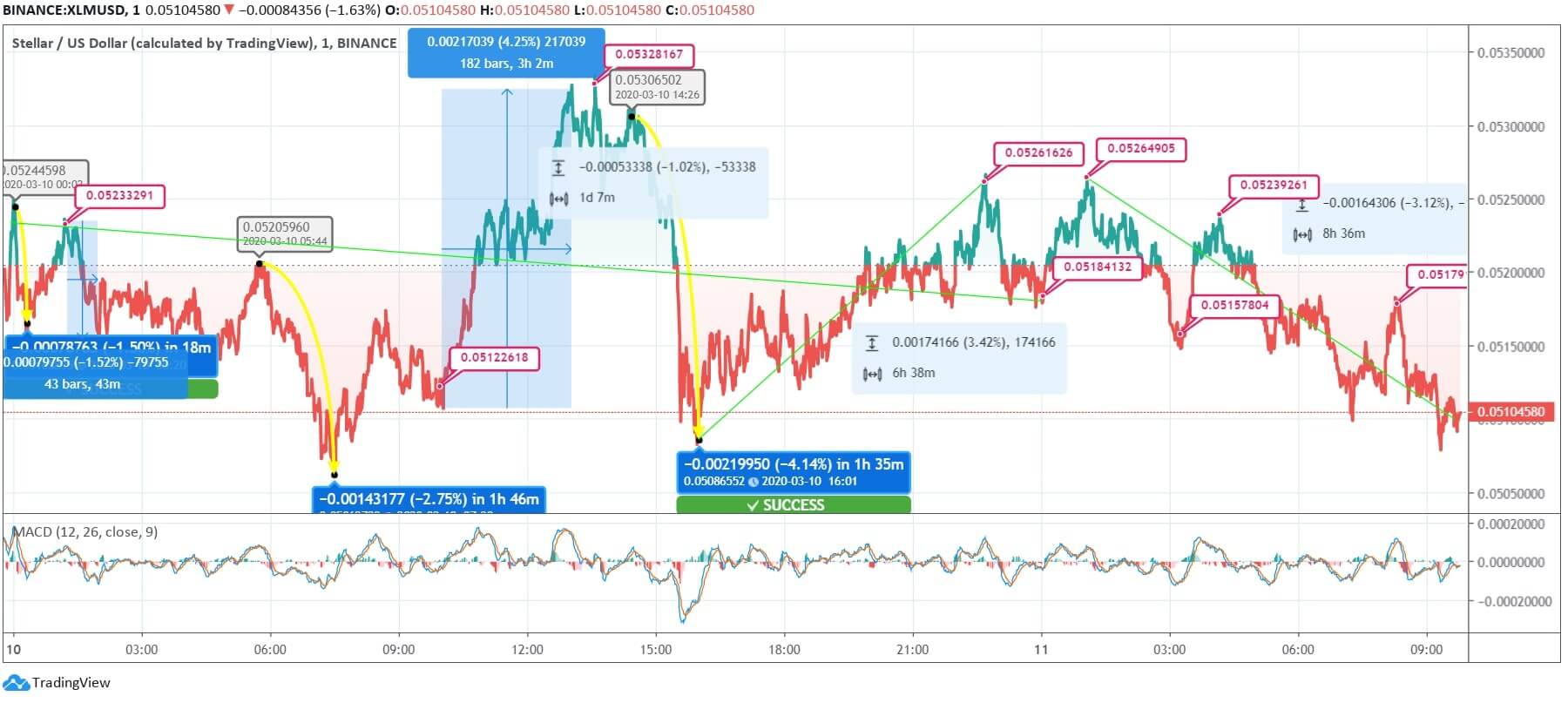 Yesterday, Stellar opened at $0.0524 and within the first 18 minutes, the coin dribbled to $0.0515 by 1.50%. The coin improved to $0.0523 immediately after the same but couldn't hold for long and thus dropped back to $0.0515. The currency hovered around the same level for a while and at 05:44 UTC, the price escalated to $0.0520. Although, in the next 46 minutes, Stellar plunged to $0.0505. Thereafter, Stellar started improving and at 13:00 UTC, the price jumped to $0.0532 and despite pullback, the price remained at the same till 14:00 UTC. Stellar was spotted under pullback at 16:01 UTC and thus slipped to $0.0508. The later hours helped the coin to improve to $0.0526 by 3.42%. The closing hours of the day again brought the pullback pressure that brought the coin to $0.0518. The intraday movement of the coin reflected 1.02% regression in Stellar. Today, Stellar began with an improvement that couldn't last for more than 30 mins. The price counters were spotted moving from $0.0518 to $0.0526.
Thereafter, the price began dropping and at 03:15 UTC, the coin touched $0.0515. Later, the currency escalated to $0.0523 but couldn't resist the fall. With a spike at $0.0517, the price dribbled to $0.0510 and is currently at the same.
The current price of Stellar is $0.0510 and its immediate support level stands at $0.0508. The same is likely to be breached in the coming hours. The next support level is at $0.0498 and looks like by the midday, the coin might violate the same. The major support level at $0.0487 might remain untouched. However, if the current price momentum improves, then the price has the chance to escalate to the immediate resistance level at $0.0530. Although, the chance of happening the same is quite light.