Binance was launched in 2017. After that, it became a popular crypto exchange platform. BNB is the native coin of the Binance platform, which is used to pay, trade, and swap currencies on the platform. You can use other crypto coins such as BTC and ETH, but if you use BNB, you have to pay a lesser fee for crypto trading on the platform. Indeed the exposure is due to these low trading fees.
Binance will launch a public blockchain platform that helps developers to create new coins. It has a lot of future planning, so it will grow in the future. Moreover, Binance is also used as a payment mode like Bitcoin, which gives them another opportunity to expand their business. However, it is only applicable to the merchants working with Binance exchange.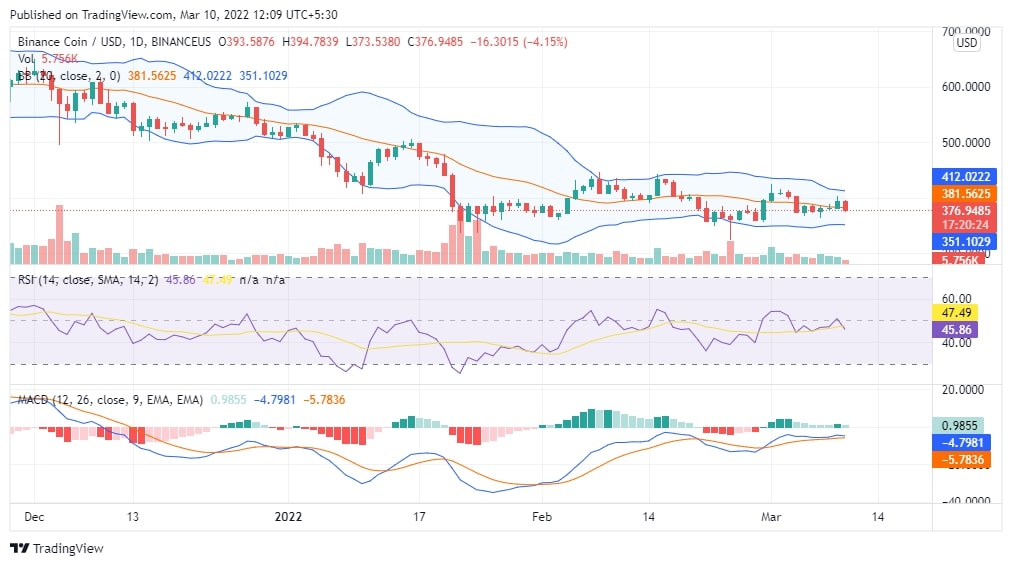 When writing this analysis, BNB/USD is trading around $376. Like many other cryptocurrencies, 2022 can be a year of consolidation for the Binance coin. On the daily chart, the MACD is still bullish, the RSI is stable around 47, and candlesticks are forming around the baseline of Bollinger Band, which suggests short-term bullishness, but how long will it last? Let's find the answer from the weekly chart.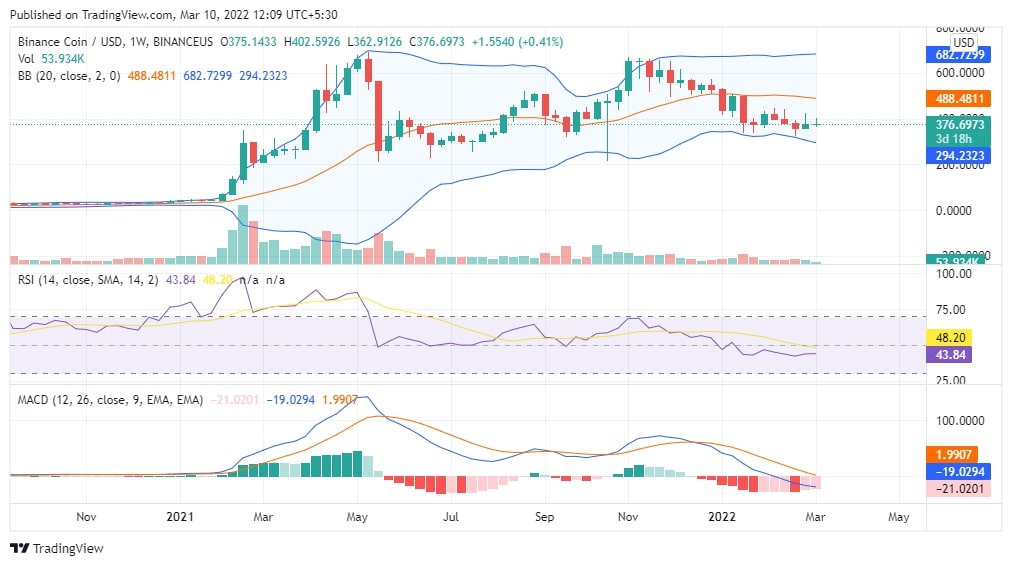 After reaching an all-time high of $650 last year, it has been in a downtrend. Even on the weekly chart, the MACD is bearish; the RSI is around 43, and candlesticks are forming in the lower half of the Bollinger Band.
The chart is bullish in the long term. However, it formed higher highs and higher lows, but this year it has taken support around $350; if it breaks this level, the next level can be $290 as per the BNB coin price prediction.
On the other hand, in the short term, we can see a sidewise movement within a range of $450 and $340. That means the chart is good for a short-term investment, but it will be suitable for the long term when it breaks the resistance level. Indeed, the price will be volatile, and cryptocurrencies may not provide huge profit this year, but the Binance coin is top-rated, and it is worth it for long-term investment.